Monreale Cathedral, on a hill just a few miles outside Palermo.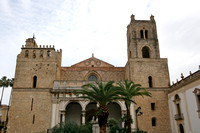 12th C Arab-Norman structure.
We were visiting on Christmas Day.
Bronze door, 1185 under the 18th C western portal.
Interior is covered with golden mosaic.
The mosaics depict biblical stories, of course.
Adam and Eve, top. Abraham sacrificing Isaac, bottom.
Christ Pantocrator in middle apse.